A nature-friendly, historic, and modern city, St. George in Southern Utah is well positioned near the Arizona border. Its elevation and latitude allow for warm winters and favorable climate. Meaning you won't ever miss a chance to go out and explore all the city has to offer.
For many, St. George is a starting point for trips to nearby parks, of which the most notable are the Zion National Park and the Snow Canyon State Park.  The city also lies in close proximity to a few of the most stunning mountain biking and hiking trails, especially near Hurricane.
Nevertheless, St. George does have some fantastic attractions worth exploring within the city limits. The interesting parks and children's activities held particularly during the summer months makes an ideal option for families.
Furthermore, the city's charismatic downtown area is brimming with museums, art, some excellent shopping opportunities, and delicious food.  And in the surrounding areas, you will be able to catch glimpses of the city's cultural history—from ancient dinosaur tracks to telling petroglyphs.
For inspiring ideas on what you can see and do, take a look at this list of best attractions in St. George.
1. Snow Canyon State Park
One of Utah's undiscovered gems, the Snow Canyon State Park located just a 20-minute drive away from St. George is filled with geological wonders. You will find all the scenery you need here—from red cliffs to white mountains, lava tubes, and plenty of other impressive views.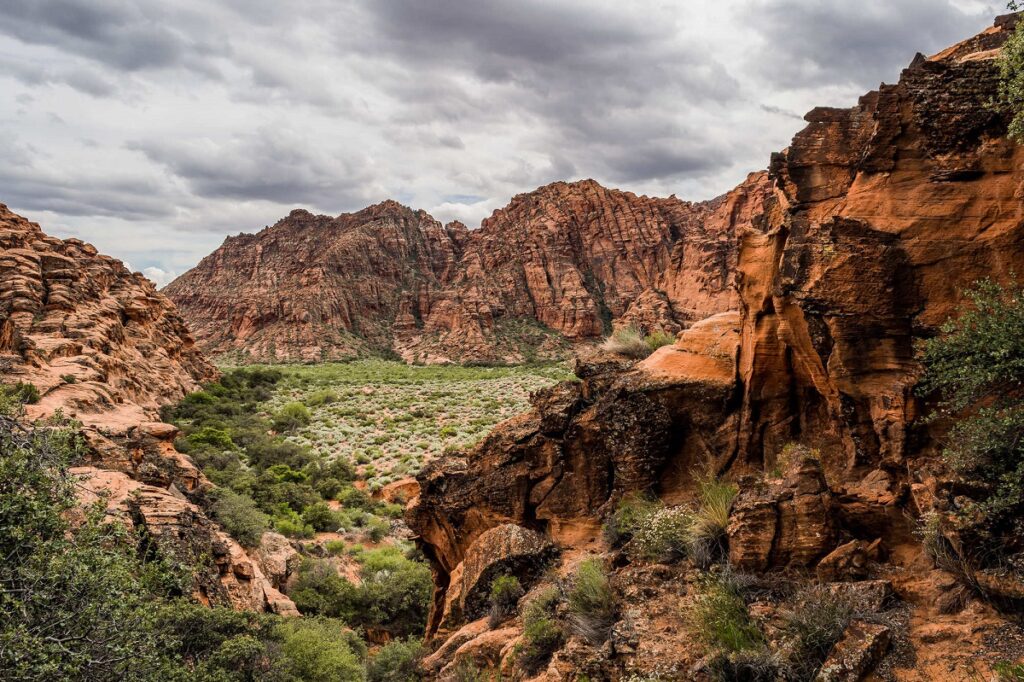 What's more, there's an assortment of epic trails offering stunning views over the canyons and volcanic landscapes. Jenny's Canyon and the Whiterocks Amphitheater are two of the many short and easy trails perfect for beginners.
Weekdays in mid-December are a great time to be in St. George if you want the hiking trails for yourself. Don't forget to climb up on the petrified sand dunes to catch the sunset.
2. St. George Utah Temple
Spreading across an entire city block, this striking building is a must-see in St. George.
Built in 1877, only members of the Mormon faith are permitted into the temple. However, there is an on-site visitor center that opens to the general public.
The temple looks particularly breath-taking in spring when the open grounds filled with trees and flowering plants blossom, making the space feel as if it was taken right out of a fairy-tale.
Easily accessible, you will be able to spot the temple from anywhere in St. George due to its shimmering white appearance. Up close, you will find that the building is massive—taking up over 110,000 feet and rising to a height of 175 feet.
3. Town Square Park
If you are looking for something to do in St. George that appeals to your children, your best bet is to head to the Town Square Park. Being there is a fun and free way to pass a hot sunny afternoon by indulging in an immense amount of activities like a lazy river, splash pad, and other water features. If your tiny trots get tired of the water, there is a historic carousel they can ride for a small fee.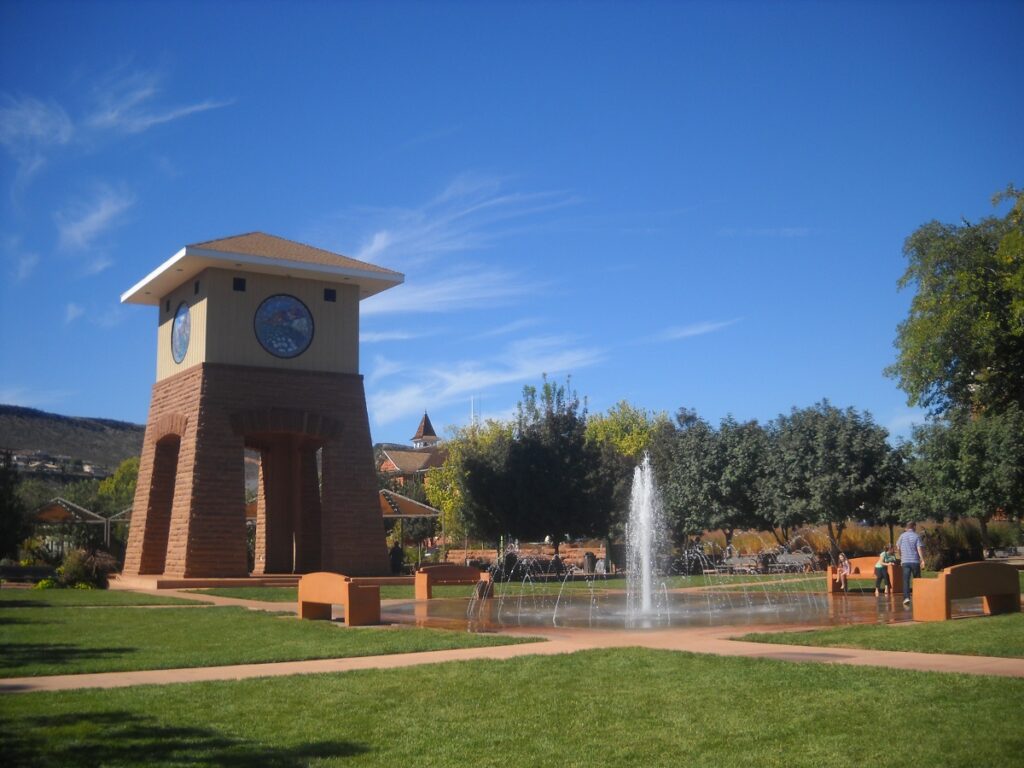 The park is surrounded by a lot of St. George's historical buildings that have been beautifully restored, like the Tabernacle. It also offers free Wi-Fi and has electrical outlets for those who need to connect and recharge.
4. Zion National Park
The mystical red cliffs of Zion Canyon are what personifies this remarkable national park.  Spreading across 230 square miles, exploring all of Zion in a single trip is nearly impossible.
Nevertheless, catching just a glimpse of the colorful sandstone cliffs, dazzling in hues of red, pink, orange, and creamy white make the trip worthy enough to evoke feelings of astonishment.
Zion National Park boasts a wide array of beautiful hiking trails that come in varying difficulty levels—a short stroll to a multi-day excursion. The place also offers camping and backpacking opportunities for visitors.
Additionally, you can go horse-riding, kayaking, hiking, climbing, and canyoneering within the park limits. However, keep in mind that many of these activities require a permit.
5. Kayenta Art Village
Also known as Coyote Gulch Art Village, a short drive from St. George will bring you to this spellbinding community of art galleries, gift shops, studios, a spa, and an outdoor café. The areas where the shops are located are pedestrian-only. Meaning it is a stress-free space where you can wander around for an entire morning or afternoon.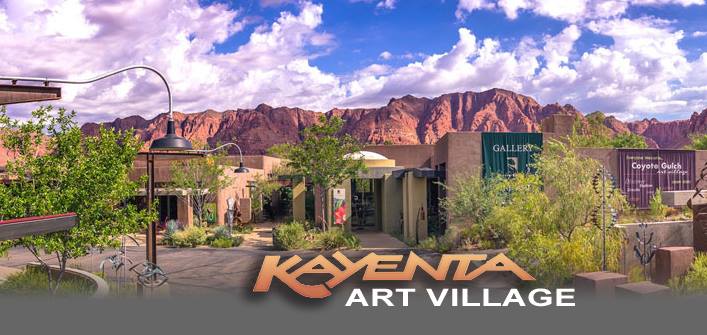 Kayenta Art Villages, in short, is a pleasant space for artists, and art enthusiasts can come together to grab a light lunch, buy some unique souvenirs, or draw inspiration from its beautiful surroundings. From paintings to ceramics and sculptures, many forms of art and masterpieces are on the display and for sale at Kayenta Art Village.
6. Little Black Mountain Petroglyphs
If you are looking to explore the desert, the Little Black Mountain Petroglyphs tends to be an interesting and fun destination. While the drive to Little Black Mountain Petroglyphs takes a good lot of navigation, the site is easily accessible once you are there.
A short walking trail winds around huge boulders helping you witness the well-defined petroglyphs. The place is enveloped in an end-of-the-road aura. Thus, it is likely you will have the place to yourself.
Where To Stay In St. George
When it comes to accommodations, there are a lot of options in the city ranging from luxury to mid-range and budget hotels.
Located in close proximity to the Snow Canyon State Park, The Inn at Entrada is a luxurious hotel featuring spa services that will soothe away all your sore muscles from the day's expedition.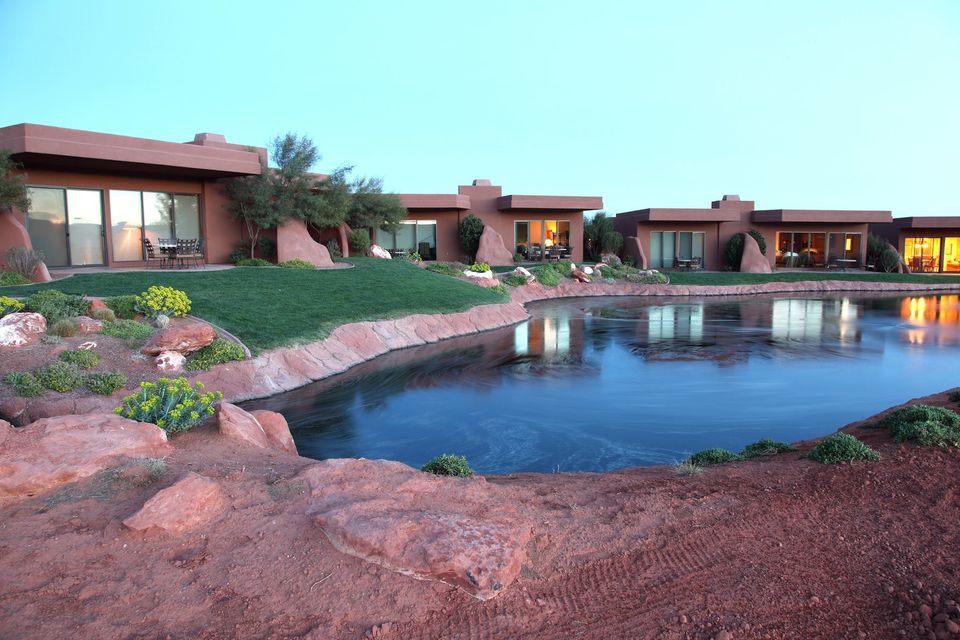 But, if you are looking for a mid-range option, the Best Western Plus Abbey Inn Hotel & Conference Center or the pet-friendly La Quinta Inn & Suites makes for two ideal options.
On the other hand, an independently owned and operated Chalet Motel is great for budget travelers. The rooms have been recently renovated and are available in units of three beds, making it a perfect option for families
Have a Real Estate Questions? Ask Deby Bauer!
Summary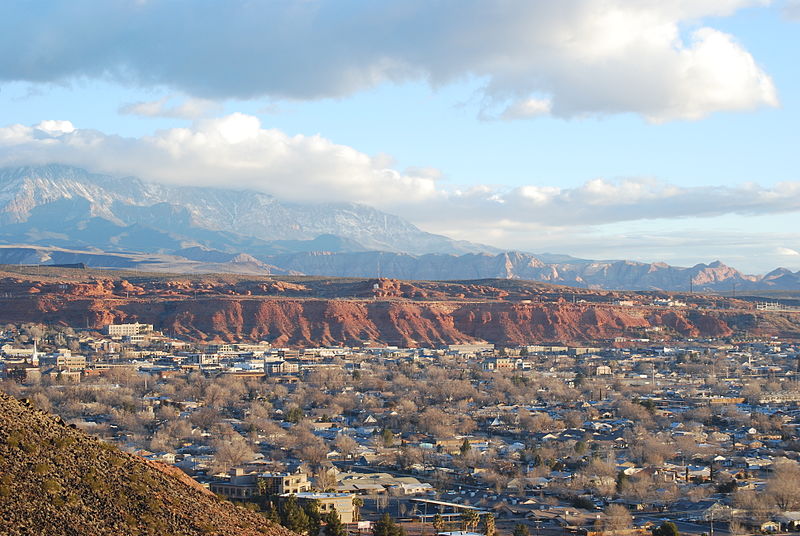 Article Name
6 Best Things To Do In St. George, Utah
Description
A nature-friendly, historic, and modern city, St. George in Southern Utah is well positioned near the Arizona border. Its elevation and latitude allow for warm winters and favorable climate. Meaning you won't ever miss a chance to go out and explore all the city has to offer.
Author